"Plans of Cremades: a family friend of Saint Josemaría"
At the end of last month the book was published digitally: Plans of Cremades: a family friend of Saint Josemaría. Will soon be published on paper.
His actor, Don Javier Cremades Sanz-Pastor is the brother of the rector of San Juan of the Hospital, tries to reflect in this book as St. Josemaría, a man of God, It was humanly: near, affable, affectionate and very helpful. Also how he lived friendship. Recounts many details of a Christian home, bright and cheerful home. And as he tells Don Carlos Cremades, "a home which thank God, the Lord granted me the gift of being part ".
Don Carlos presents us with the book:
Below we transcribe the full article on the book published on the Opus Dei website on
"The details that bring us closer to God of this saint we can all receive"
Mons. Javier Cremades Sanz-Pastor (Zaragoza, 1946), priest from 1973, has carried out his pastoral work in Pamplona, Santiago de Compostela, Madrid and Torreciudad. Confined these days in his house — like all of them—, you have a lung disease that requires you to be especially cautious with the coronavirus, but it doesn't stop you from teleworking. He has just published a book entitled "The plans of the Cremades" on the relationship of Saint Josemaría with his family.
The Cremades Sanz-Pastor family with Saint Josemaría, in 1973.
Google Play (free) ► Plans of Cremades: a family friend of Saint Josemaría
ePub y PDF (Free download at Bubok) ► Plans of Cremades: a family friend of Saint Josemaría
Apple (free) ► Plans of Cremades: a family friend of Saint Josemaría
Amazon (free) ► Plans of Cremades: a family friend of Saint Josemaría

---
Why did it take so long to write this book or, In other words, why publish it now?
When I saw my health decline, I realized that it was a shame not to put in writing the many graces of God that I have received through Saint Josemaría and the wonderful family I was born into..
Although about the life of Saint Josemaría there is a lot written, it seemed to me that I could contribute some things from the most daily and human side. You want it not, the biographies have a point of seriousness that make the character seem somewhat distant. The filming that we keep of gatherings with him also show his closeness and his joy, but they are still more or less crowded meetings.
Javier Cremades Sanz-Pastor
Isn't the appreciation that Saint Josemaría showed his family from the 22 April of 1941?
My father made it easy for Saint Josemaría to kiss his mother (+22.IV.1941) before they buried her. I was preaching outside Madrid and needed to return as soon as possible. My father provided him with a car and the necessary pass to travel on impassable roads, and with enough gasoline bonds, because the fuel was rationed.
We are used to seeing the saints standing on pedestals on the altars as intercessors before God., like they're not flesh and blood. In many of his biographies his human side is hidden, and even more its defects and limitations, as if they were obstacles to holiness. But just open the gospel and see the life of the first disciples chosen by the Lord, to realize that this approach is wrong. To be holy you need to be very human, and appreciation is a clear manifestation of this.
Any unpublished anecdote that does not appear in the book?
I can think of a very small one. One day I received a letter from my little sister, which then must have 15 years, in which he told me his adventures.
I was commissioned by the Father [Saint Josemaria]: to tell her to pray for her because she had started doing the soul searching at night, and I was worried because, as I counted, suspended every day. When I told the Father, he was very amused and told me to answer him for him, saying that I was going to pray more for her., but don't worry, since the same thing happened to him: that many nights he ended his examination of conscience saying: "Lord, forgives. Today, Josemaría is not happy with Josemaría either ". And to stay in peace after making a act of contrition, because God is very good.
The Cremades family with the founder of Opus Dei, in 1971
Any advice for those of us who have not been lucky - and responsible - for having received so many details from a saint?
The advice I give in the book. The details that bring us closer to God of this saint we can all receive, because from Heaven continues to intercede for us, especially by the people of Opus Dei, for those who participate in their activities and for a lot of co-workers and friends who have discovered in Saint Josemaría a great accomplice and intermediary to increase their love for God. If here on earth I didn't stop, in Heaven it moves much more: God lets you do. Since the book is posted online, I have been receiving many emails and communications from people confirming that blatant help from Saint Josemaría, whom Saint John Paul II called "the saint of the ordinary".
Can you be Aragonese and universal at the same time?
Some examples, among many other possible: the Virgen del Pilar became Aragonese in the 1st century. And, to another level, I get a few more names: Sender, Baltasar Gracian, Miguel Servet, Buñuel, San José de Calasanz, Saint Josemaria, my parents… and, although it sounds like I'm bluffing, I myself am Aragonese and universal at the same time: I really mean it.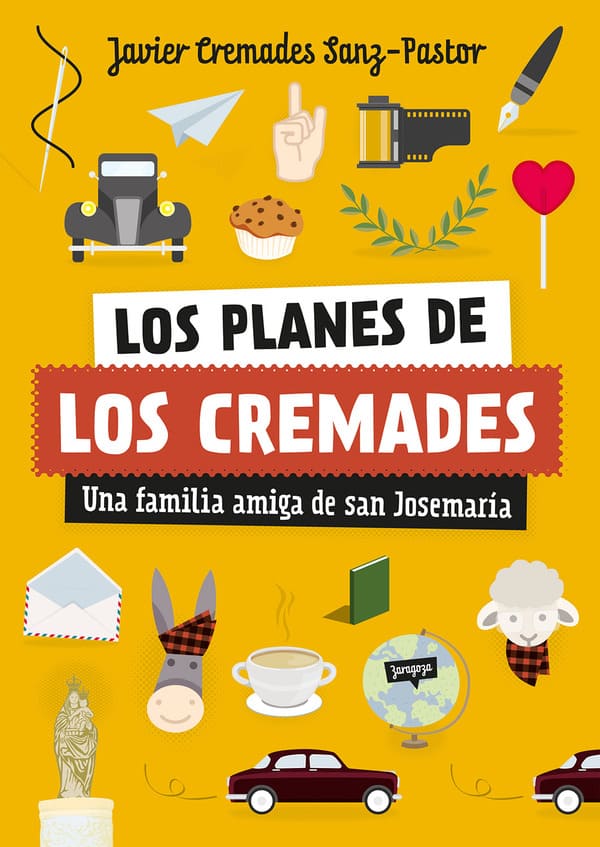 Book cover
The Virgen del Pilar is very present in the life of Saint Josemaría, like good aragonese. Any lesser-known details of that special devotion?
On one occasion I was traveling from Rome to Zaragoza and, before leaving, He gave me the blessing of the trip and made me a very precise commission: go to Pilar On your part, to tell the Virgin that he loved her madly and many things: everything I could think of. He did not specify me more. Needless to say, I have the commitment with which I fulfilled this commission the best that I could, although, no matter how much effort i put, Surely I fell short in my expressions of affection for the Mother of God on your part.
They have almost passed 50 years of the death of Josemaría Escrivá. Much has been written and more has been said. In his opinion, Is there still a facet to your life, or some trait of his character, to discover or that has not been deepened?
That question is a shoreless sea. I leave it to historians and those who have lived very close to him. But I can assure that there is nothing closer, more loving, more endearing and happy than being born into a large Christian family and living with a truly holy person. I ask the readers to pray for me because I will have to give a lot of account to God our Lord.